With over 1 billion monthly active users, TikTok has experienced a significant rise in popularity over the past few years. TikTok has emerged as a prominent platform for creativity and entertainment, and businesses have recognized its potential for generating profits. By utilizing creative and engaging videos, businesses are able to showcase their products and reach a wider audience, making TikTok an effective platform for discovering new products. To discover winning products on TikTok, you can either browse relevant hashtags or utilize specialized TikTok product discovery tools.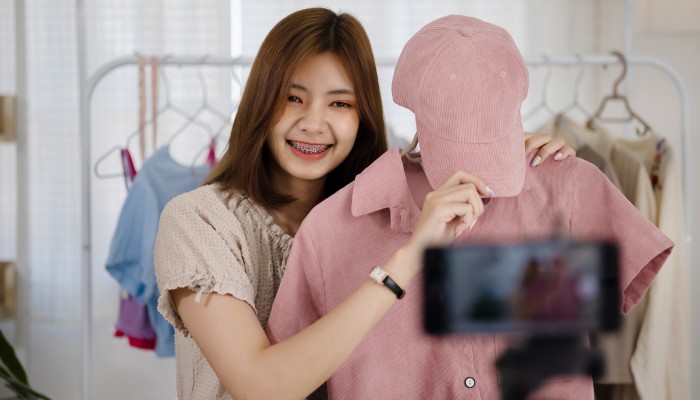 TikTok analytics trackers are crucial for businesses looking to gain a competitive edge. A comprehensive TikTok analytics tool offers more than just basic performance monitoring, allowing businesses to analyze user-generated content and identify patterns and trends within their target audience. By optimizing their product offerings based on these insights, businesses can better resonate with consumers and stay ahead of the competition in a rapidly evolving marketplace. Implementing a TikTok analytics tracker or TikTok product discovery tool is a valuable asset for TikTok businesses, enabling them to gain valuable insights into the latest market trends and adjust their product strategies accordingly.
What is a TikTok product discovery tool?
TikTok's expansion into e-commerce in Southeast Asia has transformed the platform into a social commerce powerhouse, presenting a wealth of opportunities for businesses and consumers alike. Similar to other e-commerce platforms, TikTok has its own product trends that change rapidly due to the platform's uniqueness. As such, it is crucial to monitor and predict these trends in order to identify appropriate products to sell on TikTok.
Given the demand for winning product discovery among TikTok Shop sellers, there are now numerous product discovery tools available on the market. TikTok analytics trackers assist users in identifying trending products on the platform. These tools analyze TikTok videos to determine which products are popular among creators and viewers. Keeping up with the fast-paced market helps them stay competitive.
TikTok Shop is a social commerce solution that enables merchants to reach audiences with shoppable videos. As of now, TikTok's shopping feature is only available in select countries, including the United Kingdom, Vietnam, Malaysia, Indonesia, Thailand, Singapore, and the Philippines. However, it is expected to expand to other countries in the future as TikTok continues to grow in popularity and reach a wider audience.
Beauty & Personal Care is the top-selling product category on TikTok, regardless of the country. It is consistently the most popular category across the platform. For those who are new to TikTok business or seeking to expand their product offerings, Beauty & Personal Care is an ideal category to consider.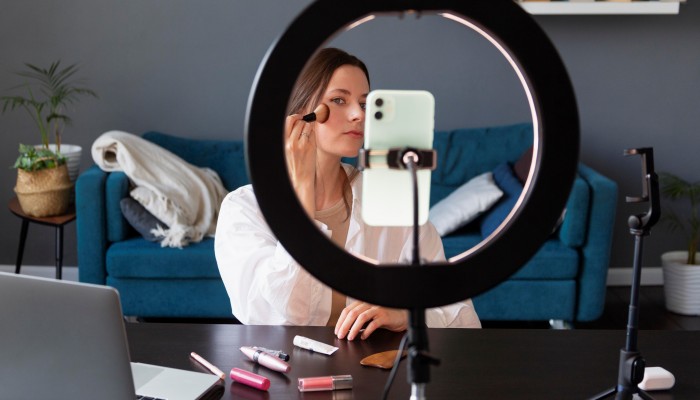 Using TikTok enables you to showcase beauty products and create engaging content that resonates with viewers through its unique video format. As a result, Beauty & Personal Care is a great product category to look into if you want to make a splash on TikTok and drive sales.
Looking to save time to discover winning products to sell? You've come to the right place. We'll explore a comprehensive list of the top trending products on TikTok. So, without further ado, let's get started!
There are differences between countries in terms of the top-selling product category and products. Therefore, identifying the trending TikTok products in each region is critical for businesses to maximize sales. The following graphs display the top 5 best-selling TikTok products for each country during the week of May 8th to May 14th, 2023.
The Winning Products on the UK TikTok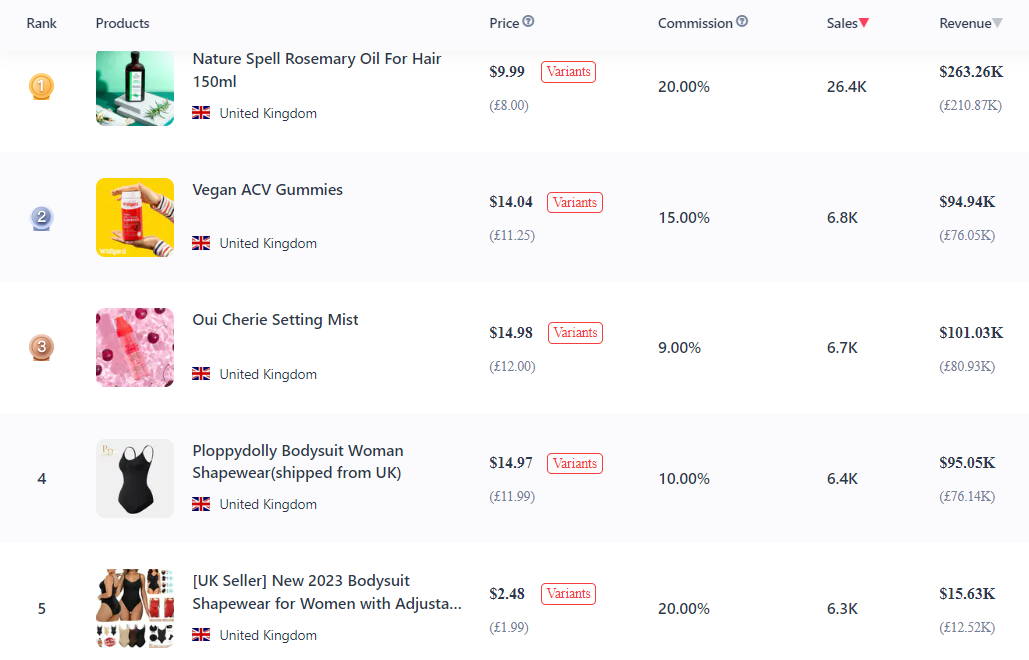 Source: Shoplus
The Winning Products on Indonesia TikTok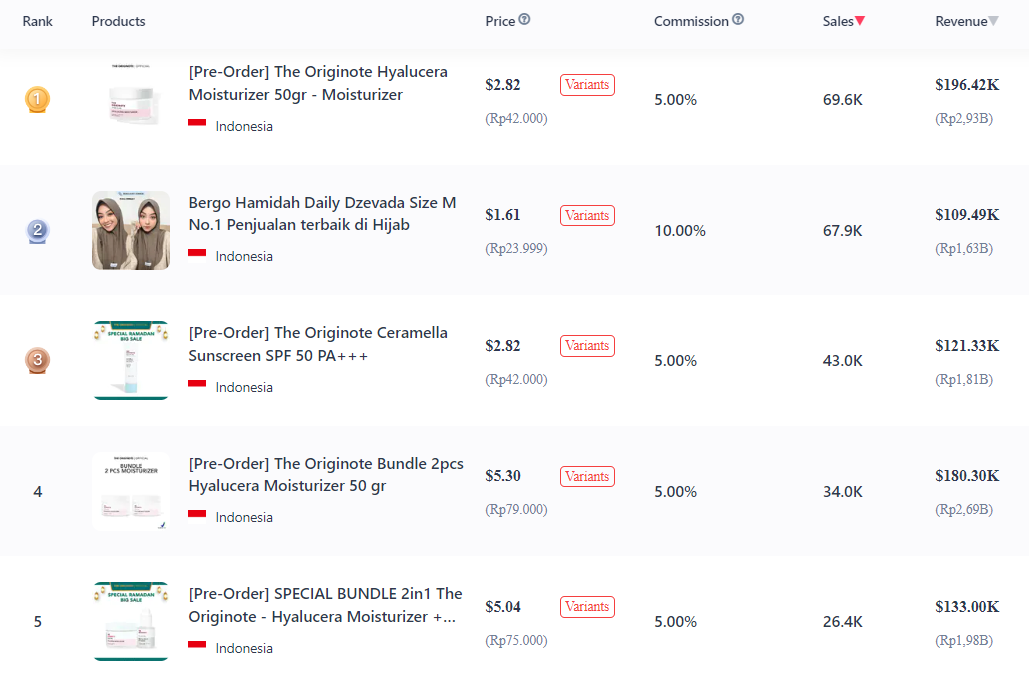 Source: Shoplus
The Winning Products on Vietnam TikTok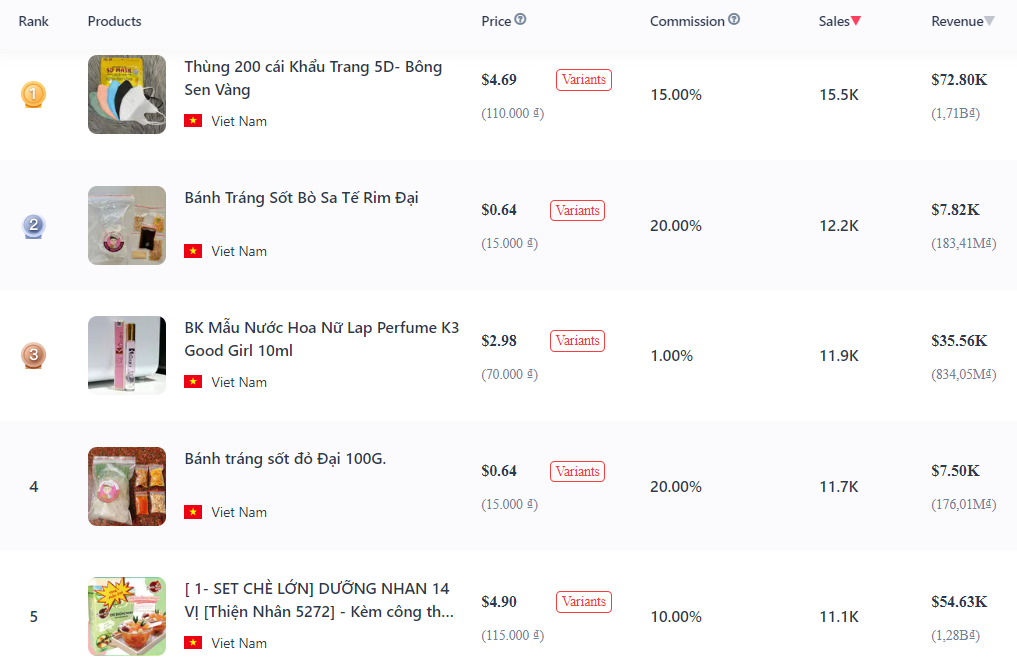 Source: Shoplus
The Winning Products on Malaysia TikTok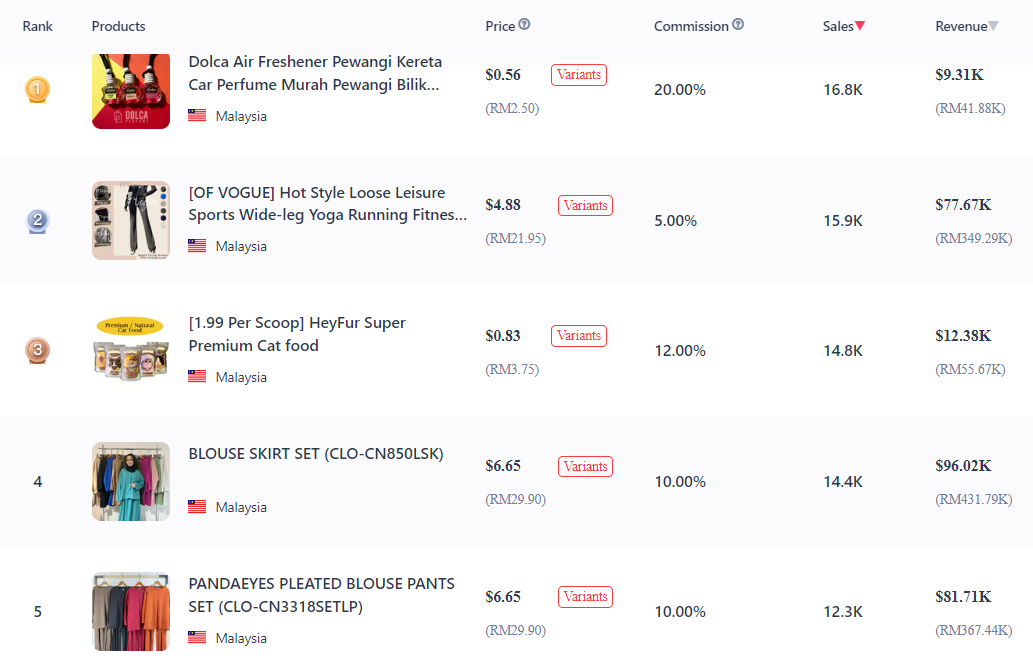 Source: Shoplus
The Winning Products on Philippines TikTok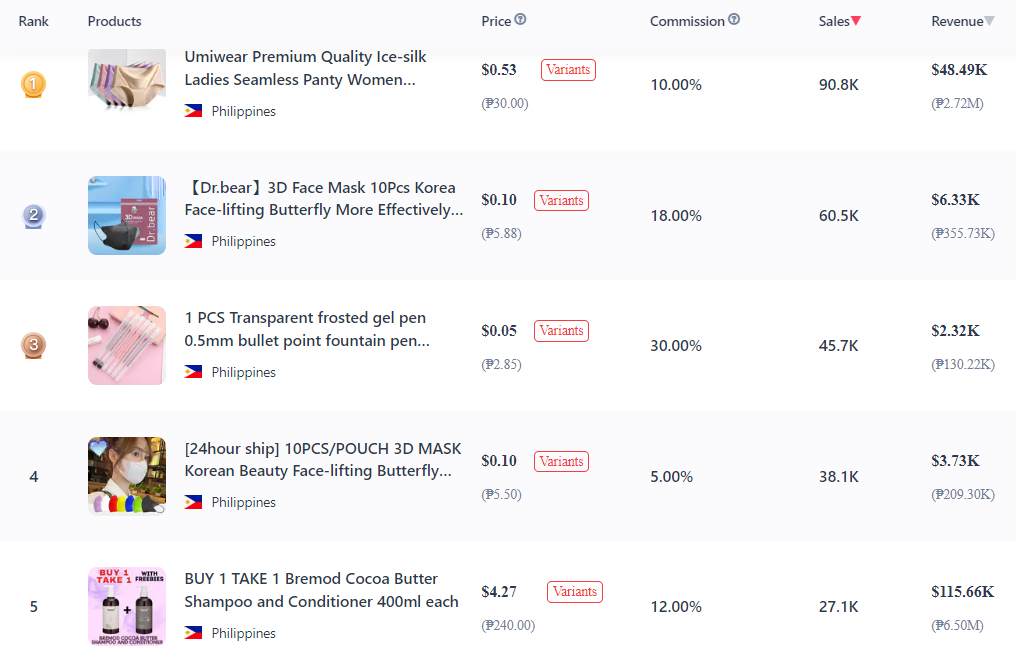 Source: Shoplus
The Winning Products on Thailand TikTok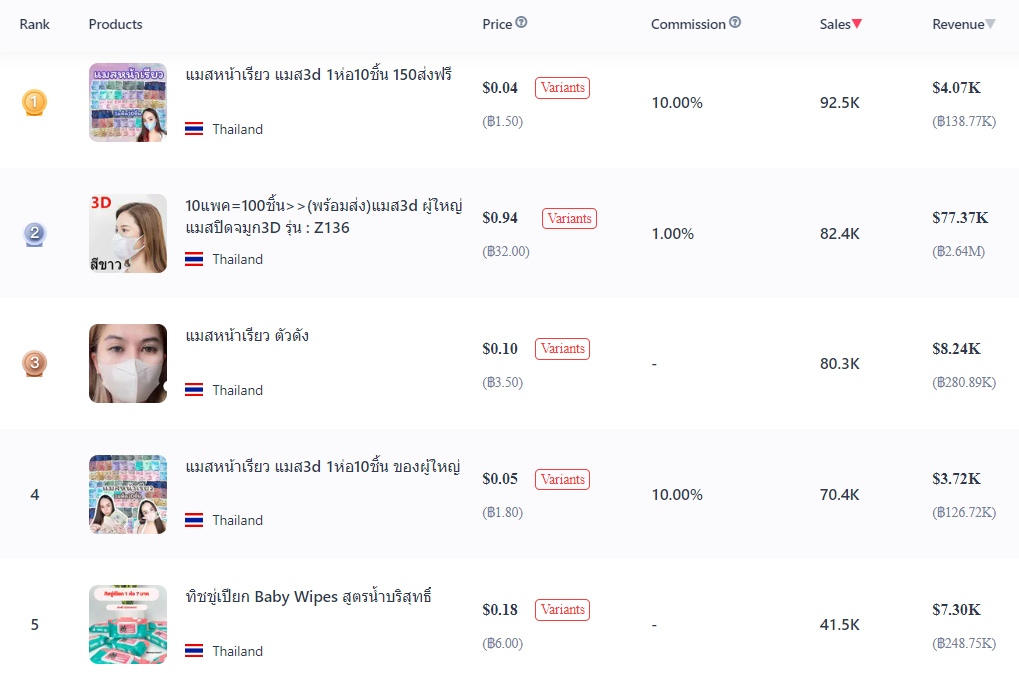 Source: Shoplus
The Winning Products on Singapore TikTok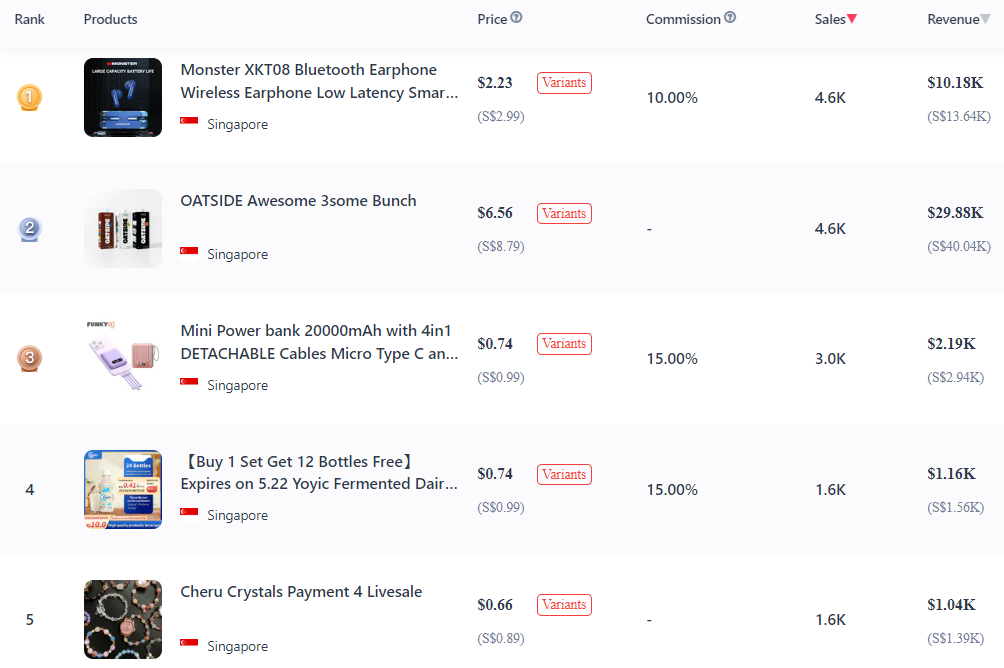 Source: Shoplus
Real-Time Product Discovery on TikTok
If you're a TikTok merchant looking for a powerful tool to discover trending products and want to optimize your e-commerce strategy? Shoplus may meet your expectations as an all-in-one TikTok analytics tracker.
With its advanced analytics and data-driven insights, Shoplus provides valuable market insights and helps businesses tailor their offerings to meet the demands of their target audience. By leveraging Shoplus, businesses can gain a competitive edge and succeed on TikTok's rapidly growing platform. It is highly recommended for online businesses looking to enhance their product discovery capabilities and drive sales on TikTok.
To determine which items are hot on TikTok, Shoplus offers a number of product ranking lists.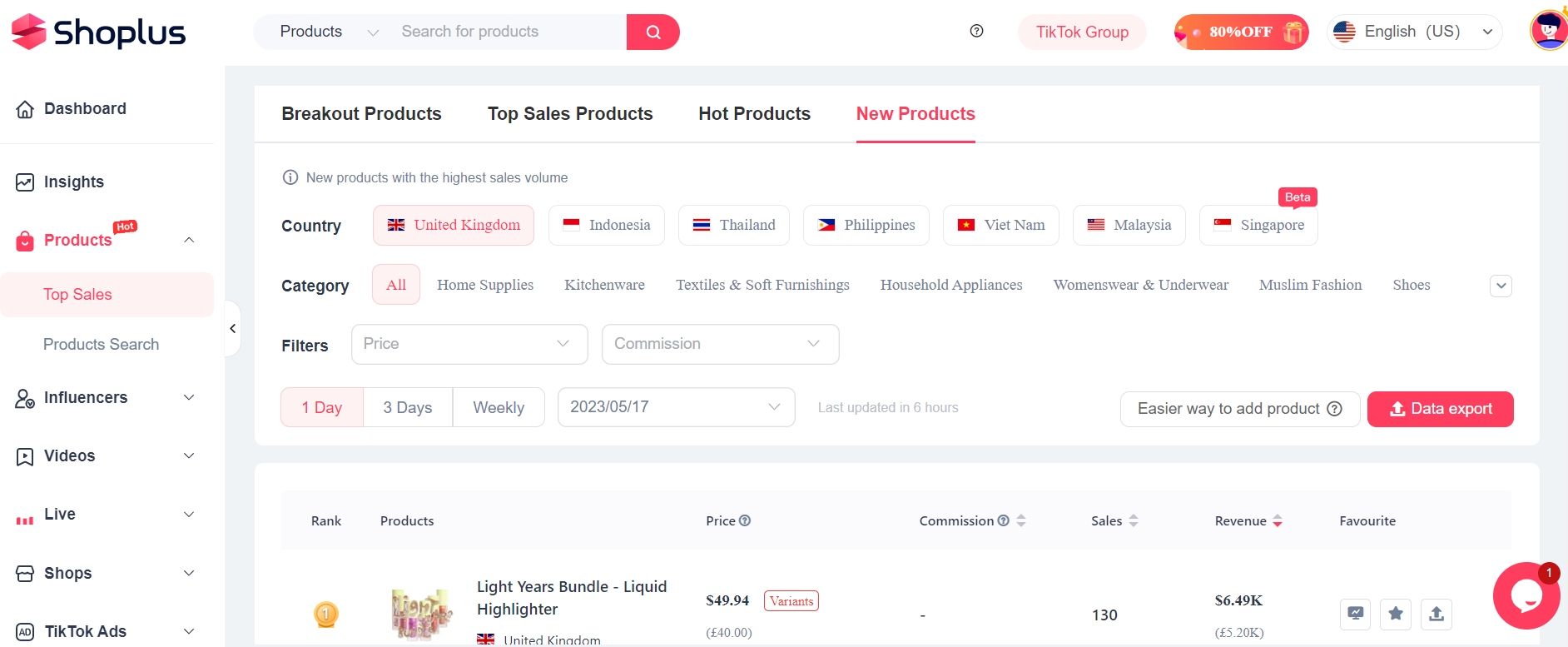 It is also possible to monitor product data for a period of time of your choice, such as 3 days, 7 days, or 14 days. Specify the range of values for the sales volume alert, including the sales volume, sale revenue, and ratio of daily growth.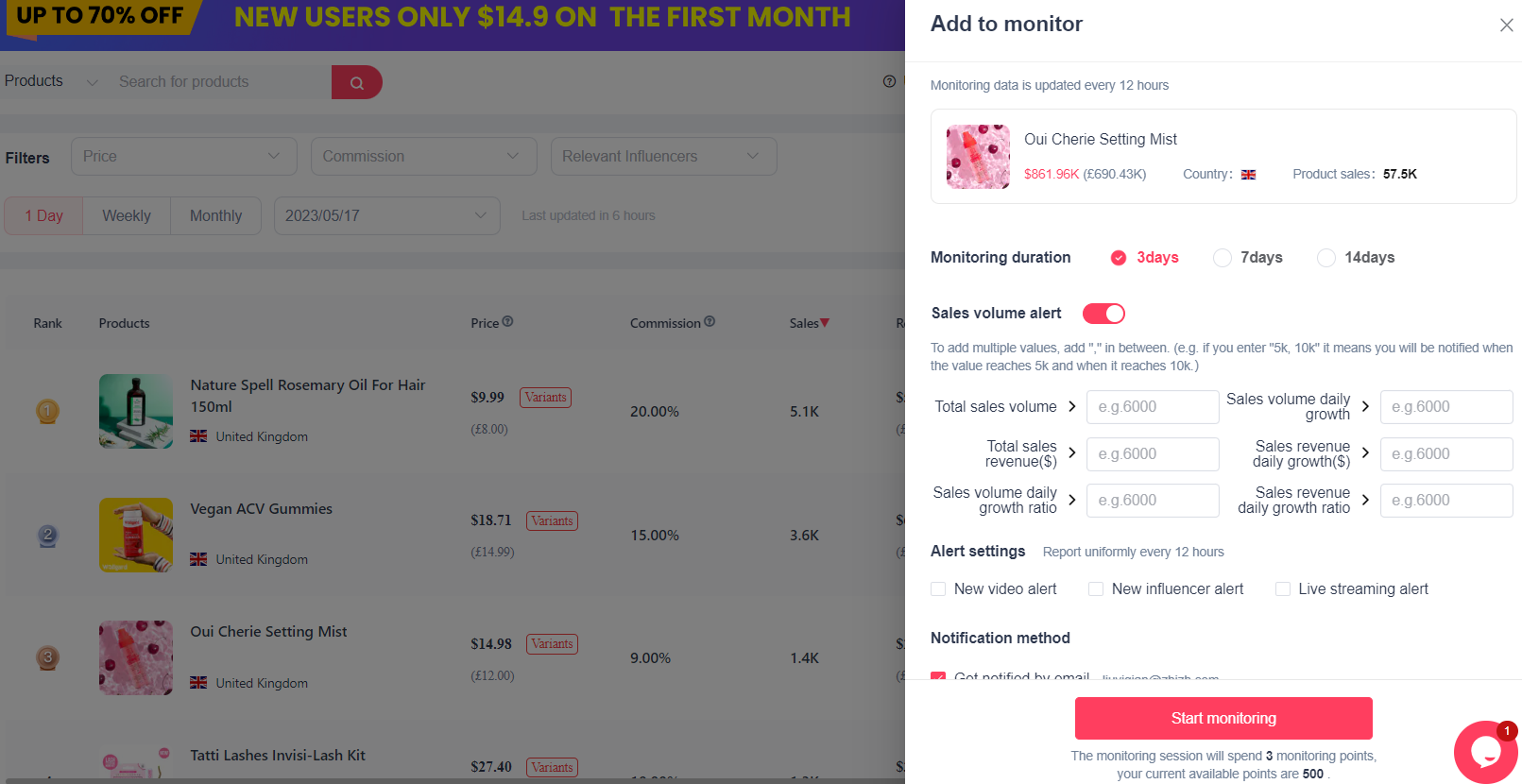 The star feature of Shoplus allows TikTok merchants to identify growth opportunities in the competitive world of TikTok e-commerce. With this powerful tool, users can easily analyze specific products' potential, evaluate market trends, and predict upcoming trends. By conducting product analysis across multiple dimensions, businesses can gain valuable insights into consumer preferences and market trends, optimizing their product offerings for maximum sales potential. If you're looking to succeed on TikTok, be sure to take advantage of this powerful feature and unlock the full potential of your e-commerce strategy with Shoplus.