TikTok has a very modest beginning when it first starts in 2016, but it undergoes a remarkable increase to one of the fastest-growing social networks in 2022. Is TikTok an effective marketing strategy? Should your business be on TikTok? The answer is, YES! If your business has not yet made a presence on the platform, you're really losing out on fantastic opportunities. If you're wondering how your brand may ride this organic wave, increase brand visibility, and engagement rate, this article is for you!
What is TikTok marketing?
TikTok is more than just a social media platform; it is also a place where users can maximize their creativity. Marketers use TikTok on a daily basis to reach out to new audiences. The majority of them prefer organic content strategies to increase visibility and engagement. One of the most effective organic TikTok marketing strategies is user-generated content, which results from encouraging your audience to create and share video content on the platform. TikTok, as a marketing channel, can employ a variety of strategies, including influencer marketing, TikTok Ads, and the creation of organic viral content. TikTok marketing refers to the process of using TikTok and TikTok content to advertise your brand and the products and services that it offers.
What are the Benefits of business on TikTok?
With over 800 million monthly active users, you can't underestimate the powerful platform. TikTok is one of the most popular social media platforms. TikTok's algorithm can be advantageous for businesses that consistently produce high-quality content. TikTok provides a unique opportunity for brands to reach out to their demographic in a creative and engaging way.
1. Increase brand awareness
Social media in general is excellent for increasing brand recognition and connecting with potential customers. Brands can no longer ignore TikTok's power. TikTok allows brands to use engaging video to differentiate themselves from the competition and increase brand awareness.
2. Reach new and huge audience
Want to grow your brand reach? TikTok is everywhere in the world. With over 650 million global downloads, TikTok was the most downloaded app in 2022.
What does this have to do with you? It means you have the opportunity to reach out to your target market on a global scale.
TikTok is a game changer for businesses. TikTok provides a special and entertaining way to reach your target audience with short, engaging content.
TikTok also has excellent discoverability and incredible organic reach. Thus, if you consistently produce quality content for your business, you will have a significant chance of attracting a large and dedicated audience.
3. High engagement rate
TikTok has an engagement rate of at least 3%, which is significantly higher than that of other social media platforms. For instance, Facebook's average engagement rate is roughly 0.07%. This is similar to the average Instagram engagement.
The higher the engagement rate, the more visible your brand becomes, leading to a higher rate of conversions. Using a tiktok engagement calculator to see the performance of all the metrics related to tiktok engagement can be the most easy and direct way. Here's some tips to increase TikTok Engagement rate.
Be consistent and post frequently
Interact with your audience
Post high-quality content
Use call-to-action
Use relevant hashtags for your content
Jump on new trends
4. Marketing to a younger audience
One of TikTok's most active groups is Gen Z - those born between the late 1990s and early 2010s. TikTok is particularly popular among Generation Z, which is quickly emerging as one of the most powerful customer segments.
The Gen Z generation is redefining how brands communicate and do business today. In contrast to advertising and vague promises, Gen Z consumers are drawn to companies that truly care about their opinion and time.
Apart from that, researches show that Gen Z is using TikTok as their New Google. Thanks to the platform's real-time and speedy delivery of information, as well as the algorithm's uniqueness (TikTok knows you well). It's not surprising to see that Gen Z searchers are using TikTok as a search engine. The information on TikTok is more personalized compared to any other platforms. The highly engaging and entertaining user experience that such personalization provides keeps users returning for more.
5. Probably the best platform for video marketing campaigns
TikTok for Business now allows you to easily set up all of your content and marketing campaigns! All you need is a smartphone, and you can easily create the video, add audio and video effects in the app, and track metrics all in one place. This makes determining what content works for your brand and target audience really straightforward.
Final thoughts
With its innovative approach to digital content creation, TikTok has become one of the most popular social media platforms in recent years. If brands do not use TikTok as their marketing channel, they run the risk of losing significant visibility with young audiences.
It's crucial to keep track of marketing performance to measure your campaign result. But how to check analytics on TikTok? You can use TikTok analytics that on the app, or use third-party TikTok analytics tracker for in-depth insights. Marketers or creators can use Shoplus as for free TikTok analytics.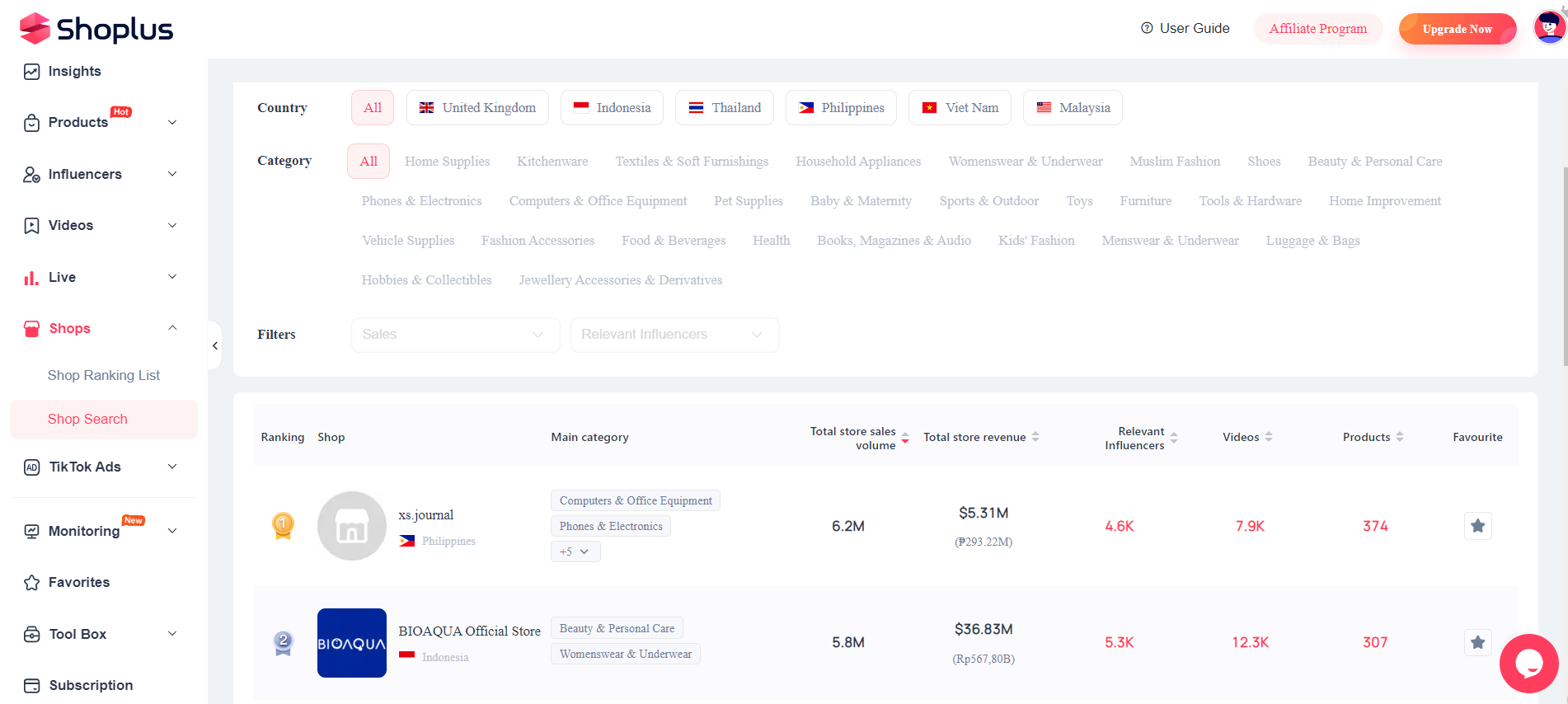 Shoplus is a comprehensive TikTok analytics tracker that you can use to track TikTok trending products, videos, TikTok influencers, ads, shops, etc. Vital metrics beneficial for improving TikTok engagement rate can be seen. You can also see the insights of TikTok ecommerce trends. Using Shoplus, you can promote your brand or products on the most popular platform.